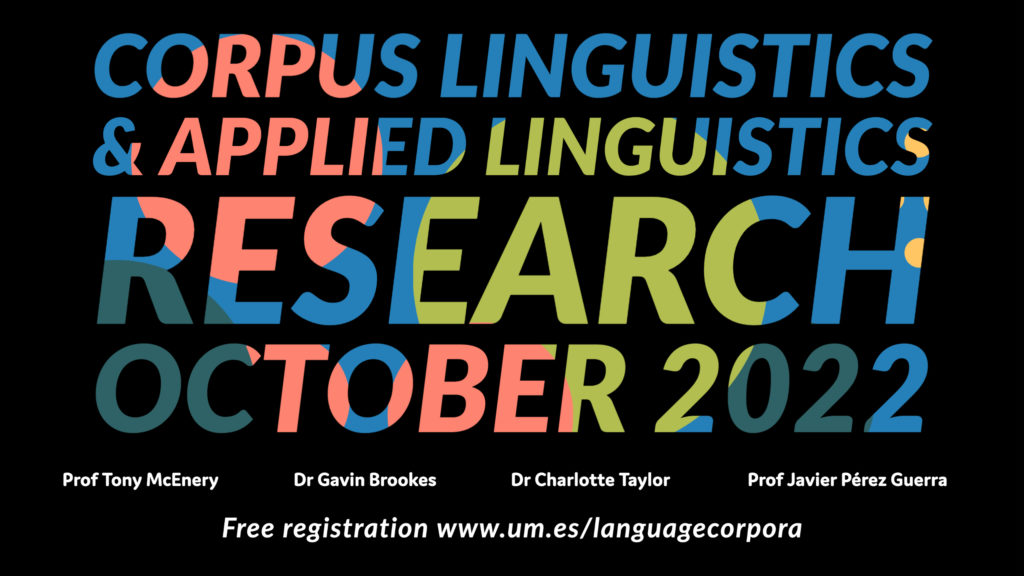 –Corpus linguistics and Second Language Acquisition
Prof Tony McEnery, University of Lancaster
October 5, 18:00 (Madrid time) / 17:00 (UK time)
–Who's in this corpus? Looking at language and identity with (and without) demographic metadata
Dr Gavin Brookes, University of Lancaster
October 12, 18:00 (Madrid time) / 17:00 (UK time)
–Corpus linguistics and the discursive construction of migrants
Dr Charlotte Taylor, University of Sussex
October 19, 18:00 (Madrid time) / 17:00 (UK time)
–A corpus-friendly analysis of fragmentary constructions in English
Prof Javier Pérez Guerra, Universidad de Vigo
October 26, 18:00 (Madrid time) / 17:00 (UK time)
Free event registration link
After the registration, you'll receive an email with the webinar link for the four talks. This is the same link for all four talks.
You can check out the 2021 talks here:
https://www.youtube.com/channel/UCKjKIIQL6u1mXD2V9ZaT-_Q/featured
This online event is organized by the Universidad de Murcia and the E020-07 research group (Lenguajes de especialidad, corpus lingüísticos y lingüística inglesa aplicada a la ingeniería del conocimiento).
Coordination: Prof Pascual Pérez-Paredes