This is the weblog page for CA[e]LL, Computer Assited English Language Learning, a subject within the Postgraduatre course in LENGUA Y LINGÜÍSTICA INGLESAS: APLICACIONES ACADÉMICAS Y PROFESIONALES.
This academic year we will use Teaching & Researching Computer-Assisted Language Learning by Ken Beatty as resource textbook.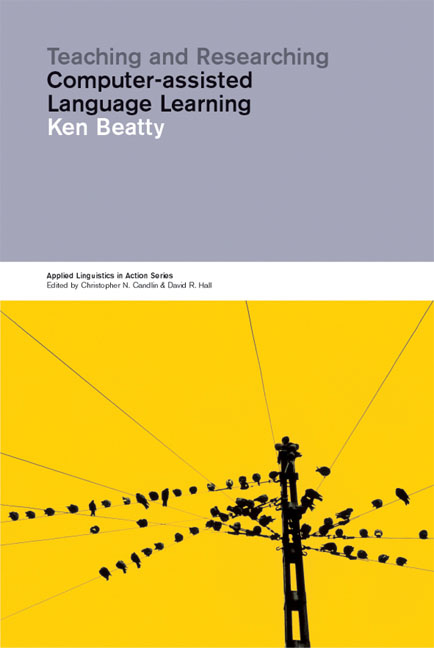 During the lessons I'll be providing more info on how to put it to good use.
You can find the official details of the subject here.
Lessons / work schedule
Academic Year 2008-2009
To be announced
Academic Year 2007-2008
I Introducing CALL (Oct. 17 + 18)
1. The emergence of CALL
2. A brief history of CALL
3. Hypertext, hypermedia and multimedia
II. CALL APPLICATIONS (Oct. 30)
4. Eight CALL applications
III. SLA

and FLT (Nov. 14 + 15)
5. Second-language Acquisition and models of instruction
8. Theoretical and pedagogical concerns
IV. Collaboration (Nov. 28 + 29)
6. Collaboration and negotiation of meaning
V. CALL Models (Nov. 28 + 29)
7. Defining a model of CALL
VI. RESEARCHING CALL (Dec 12 + 13)
9. Current research interests
10.Research
Web sites
http://ictforlanguageteachers.blogspot.com/
Resources post
Click here
Programa oficial
Our Moodle platform
http://www.um.es/sacodeyl/moodle/